Dublin Airport BSAT 11.2.6.2 Training
330 (Registered)
(0 Review)
 BSAT Dublin Airport 11.2.6.2
What is this training?
Basic Security Awareness Training (BSAT) 11.2.6.2 online aviation security training is designed specifically for Dublin Airport and its operational procedures.
It ensures compliance with Dublin Airport Authority's (DAA) operational requirements and WD training centre regularly updates the content to ensure full compliance with national, EU, European and International requirements for aviation security.
Whilst covering all relevant legal requirements, the course also explores the possibility of insider threat and of radicalisation within the organisation.
In summary, it deals with the essential elements which contribute to a robust and resilient security culture in the workplace and in the aviation domain.
Who is this training for?
WD training centre have designed the course for persons who require an airport identification card (AIC) in their particular role.  The AIC allows unescorted access to the security restricted area(s)? of Dublin airport. However, in order to receive an airport identification card, BSAT 11.2.6.2 training must be successfully completed first.
And, for some jobs, such as driver safety at the apron or outer perimeter, additional training will be needed before an AIC can be issued
BSAT 11.2.6.2 Certification
The main objectives, for Airport staff and contractors, are that:
You understand the need for aviation security.
Are aware of the security measures in place at the airport and/or the facility where you will be working.
Recognise the security needs of Dublin airport.
Understand the part you play in contributing to aviation security.
Online BSAT
You will complete 7 training units that last between 15 and 20 minutes. Then, at the end of each unit, you will answer around 3 to 5 questions. Once you have answered these, you will proceed to the next unit.
The pass score for this training course is 85%.  Your score for each unit will be used to calculate your end grade.
Once you have successfully completed your BSAT training course, wdtraining will issue you with a certificate and a training badge with photo ID, which is valid for a period of 3 years. A digital copy of your certificate will be held as proof of you having completed the course.
Other Information
In addition to BSAT 11.2.6.2, you will also find all our classroom aviation security training courses at www.wdtraining.ie
Other relevant links and websites of interest include:
All available online courses: Courses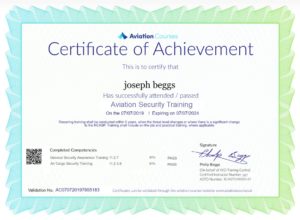 Course Content
Total learning:

8 lessons

/ 7 quizzes
BSAT 11.2.6.2 Competencies

Awareness of the relevant legal requirements

Awareness of the relevant legal requirements

Knowledge of previous acts of unlawful interference with civil aviation

Knowledge of previous acts of unlawful interference with civil aviation:

Awareness of the insider threat & radicalisation

Awareness of the insider threat & radicalisation:

Knowledge of the objectives and organisation of aviation security

Knowledge of the objectives and organisation of aviation security.

Airport ID Cards & Reporting Procedures

Airport ID Cards & Reporting Procedures

Understanding the configuration of screening checkpoints

Understanding the configuration of screening checkpoints

Training-record-BSAT-Dublin